Certified Speaking Professional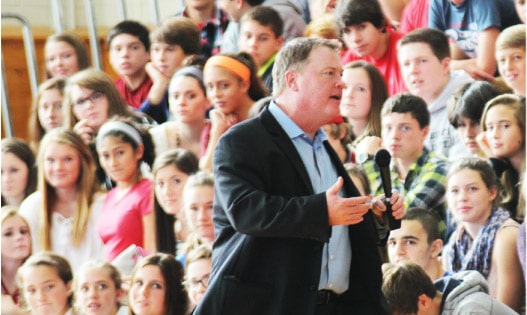 On July 10, 2005 Ed Gerety received his Certified Speaking Professional designation at the National Speakers Association Convention in Atlanta, Georgia. Certified Speaking Professional (CSP), is an honor held by less than 10% of speakers who belong to the International Federation of Professional Speakers. Professional speakers who have earned the CSP designation bring a proven track record of experience and expertise to your event.
How Did Ed Become a Professional Speaker?
While in high school Ed Gerety was captain of his football and baseball teams, Vice President of his class, and a member of Student Council, S.A.D.D (Students Against destructive decisions), and F.B.L.A (Future Business Leaders of America). He was later inducted into his high school hall of fame. While attending the University of New Hampshire where he received his B.A. in communications Ed began to volunteer speaking at schools and youth leadership conferences. At 22 he established his own business dedicated to helping others develop as leaders and reach out and make a difference. Since that time he has shared his powerful message in all 50 states, Canada, and Europe. He is the author and co-author of five books on the topics of leadership, he has completed the Boston Marathon three times, and continues to do extensive study of personal development, leadership, and peak performance.
Want Ed to speak at your event? Contact us today and we can hold a date for you and discuss how Ed's programs can help you reach your programming goals.
You can count on Ed's presentation to deliver. He is known for his ability to connect with an audience of any size. Whether you are scheduling Ed to be the keynote speaker at your national conference for over 5,000 attendees or for a leadership training of less than 100, he is experienced with delivering a message that your audience will keep with them long after his program ends.
You can be confident that Ed's experience of over 20 years of speaking with youth and those that work with youth will allow him to deliver a memorable program for your event.
Schools bring Ed in to specifically address the issues of improving school climate, bullying prevention, improving student and staff morale, and helping students develop as leaders.
Stand Up For Your Greatness