CREATE A POSITIVE SCHOOL CULTURE
EMPOWER STUDENTS TO ACHIEVE THEIR GOALS
through high energy, powerful, and authentic keynote
programs that leave a lasting impact!
REAL ISSUES. REAL RESULTS.
Ed Gerety is an author and one of the top professional youth speakers and leadership trainers in the United States. Through his personal experiences, inspirational stories, and powerful lessons, Ed teaches the life skills that are essential for our youth to develop as leaders in school and in life.
"Ed presents a high energy, fast-paced, student-centered program designed to inspire, motivate, and challenge students to reach beyond their imagination and work toward their dreams and goals."
"Ed's greatest gift is his ability to connect with students. His uses humor and compassion to relay stories that elicit empathy and respect among all members of a school community. Kids walked out of the program feeling inspired to be better citizens! Ed's message of gratitude and respect felt fresh and genuine."
"Ed Gerety's message has a powerful impact on students. He is able to capture the audience and bring students in touch with their true feelings about peer pressure and the difficulties of growing up."
"I have never in my 37 years as an educator seen a presentation that had such a positive effect on students. You have been fabulous for us!"
"Ed's ability to motivate and inspire students to make a difference and become positive leaders in our school is unsurpassed. Ed speaks from his heart, blending humor and his real life experiences into a powerful presentation."
"If you are looking for a powerful, inspirational and motivational speaker that will leave a lasting impact on your student body and/or faculty, Ed Gerety is absolutely the man for the job!"
Want Ed's FREE EBOOK and on-going tips to develop leaders, create a positive school culture & empower students to achieve their goals?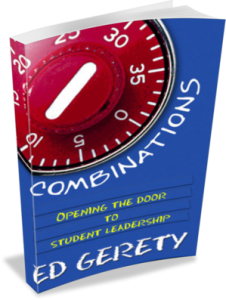 Opening the Door To Student Leadership
At long last a definitive book on leadership! A practical and user-friendly text for leadership classes, Combinations: Opening the Door to Student Leadership, is the gold standard resource for motivating and developing leaders. Filled with stories, questions and action steps, this book is a "must have" for anyone involved in leadership training.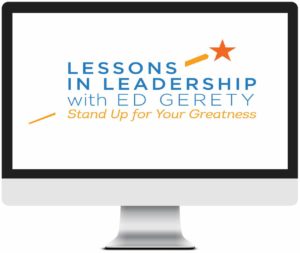 Teaching positive leadership traits has never been easier!
Empower middle school students with easy to use, self directed, multimedia lessons that engage students.
Find Out How Ed Can Make Your Next Event A Huge Success!